A device that is capable of reading multiple file formats is always an incredible device. While there are not many devices that are equipped with such a technology, which allows them to read multiple formats. However, one device is capable of reading multiple formats, i.e., Kindle. If you are using a Kindle tablet, but haven't bothered to check as to which file format it supports, then the time has come when you check it.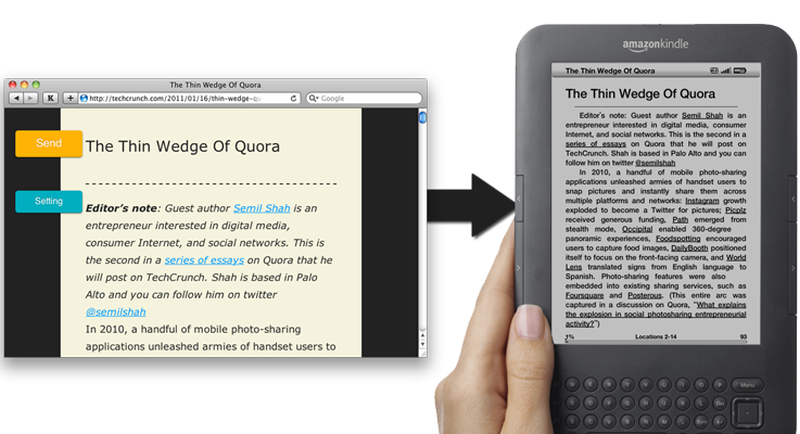 Kindle is an Amazon e-book reader that is also compatible with other types of files. In addition to books in .mobi format, e-reader opens Word and PDF texts, images and even HTML web pages – and the best: it is possible to send everything by mobile.
When opening an important file on the smartphone that deserves access on the Kindle, the user can share the content directly to the digital reader over the internet. Once the Kindle accesses Wi-Fi or 3G again, the usual sync will download for offline reading.
The personal document sending function for Kindle is compatible with the following file types.
Kindle Format (.mobi, .azw)
Microsoft Word (.doc or .docx)
HTML (.html, .htm)
RTF (.rtf)
Text (.txt)
JPEG (.jpeg, .jpg)
GIF (.gif)
PNG (.png)
BMP (.bmp)
PDF (.pdf)
How to Set Up Receiving Files on Kindle
Step 1. Go to Amazon's official mobile site (amazon.com) and touch the user icon to log in to your account. Then select the "Devices and content" option.
Step 2. Open the top menu, represented by four dashes, and touch "Settings". Scroll down to the "Kindle e-mail address" section and note the e-mail address for your Kindle reader. Then touch "Add a new approved email address" and include your email address used on the phone.
How to send a file from your phone to Kindle
Step 1. Open documents, photos, and other applications with Kindle-compatible files and access the sharing tool. Since some apps offer link sharing, care must be taken not to select this option. Always choose the submission as "attachment" or "copy" – this is the case of Microsoft Word and Google Drive.
Step 2. Choose one of the formats supported by Kindle and select your e-mail application as the destination.
Step 3. Enter your Kindle email (noted in the first step) as the recipient of the message and send. Then go to the Sent Items folder to check if the content came out with the attachment.
Once the Kindle connects to the internet, the synchronization system downloads content for offline reading.
By chance, that doesn't happen or you come across any other issue, then you should restart your Kindle device, as most of the issues are fixed by rebooting the device, so you can try this first line of troubleshooting. If you find that Kindle is not reading a specific file format, then there must be some weird issue with the device. In that case, you will have to get in touch with the Device Support.